Young men were far and away the worst
COVID-19
rule-breakers during the bleakest months of the
New South Wales
lockdown, a new report has revealed.
A whopping 74 per cent of 36,597 COVID-19 public health order breaches in July and August were men, according to
Bureau of Crime Statistics and Research
(BOCSAR) statistics, with 61 per cent of offenders men and women aged between 18 and 39.
The 36,597 breaches detected by
NSW Police
in July and August accounted for an extraordinary 90 per cent of all COVID-19 breaches in the state during the pandemic to date.
Nearly half of all breaches involved people who had a prior criminal offence in the last five years.
Just over one-third of breaches involved non-essential travel and 30 per cent were for failing to wear a face covering.
People visiting other households when they should have been at home involved about 14 per cent of breaches.
Just over half, 51 per cent, of all rule-breaking took place in public places, with residential settings next on 22 per cent, and business and public transport making up around one in 10 of breaches.
"While most people adhered strictly to the public health orders during lockdown, a subset of the population were less inclined to comply," BOCSAR chief executive Jackie Fitzgerald said.
"Interestingly the study suggests that compliance was greater in LGAs of concern possibly because the COVID-19 risk was higher or possibly due to more enforcement."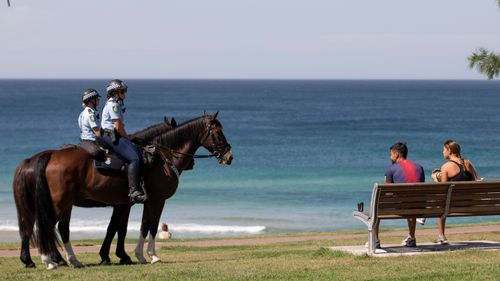 Nearly nine in 10 breaches were dealt with by way of an infringement notice, with a typical maximum fine amount of $1000.
Saturdays were the day most breaches were recorded, with over 85 per cent detected between 9am and 9pm.
Interactive graphics and data: Tara Blancato