Six further deaths were recorded, as hospitalisations rose to 631.
There are 51 people in intensive care, with 22 on ventilators.
From today, category two and three elective surgeries will be halted in public and private hospitals in the state.
Emergency surgery, however, will still go ahead.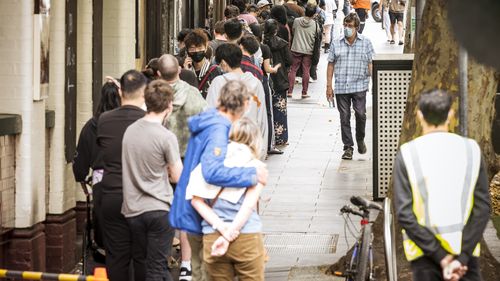 Victoria recorded 17,636 new COVID-19 cases yesterday, and a further 11 deaths.
Acting Premier Jacinta Allan thanked the almost 60,000 Victorians who had been tested for COVID-19 in the past day.
"We know that these are trying and difficult times to go out and get tested," she said.
Ms Allan announced parents will be able to book in young children to get a COVID-19 vaccination from 1pm on Wednesday, both online or via the phone hotline.
"From next week, children aged five to 11 become eligible for the COVID-19 vaccine," she said.
Royal Children's Hospital Chief of Medicine Associate Professor Tom Connell has said COVID-19 is not necessarily mild in children, as is commonly believed.
He urged parents to get their kids vaccinated.
"We all want what's best for our children," he said.
More rapid antigen tests on the way to Victorians
Meanwhile, Ms Allan said an additional 10 million rapid antigen tests had been secured by the state government, with 44 million now on the way.
She said the way the tests would be distributed would be announced in the coming weeks.
Ms Allan said the deployment of tests was expected to ease pressure on testing centres.