Another rescue has taken place in flash flooding in
New South Wales
as wild weather lashes three Australian states.
A person became trapped inside their car in floodwaters in Merriwa in the Hunter region this morning as rivers rose after being inundated with rain.
Merriwa Rescue crews were joined by NSW Police and Ambulance to save the person, sparking another warning for residents not to cross swollen rivers, or enter flood water.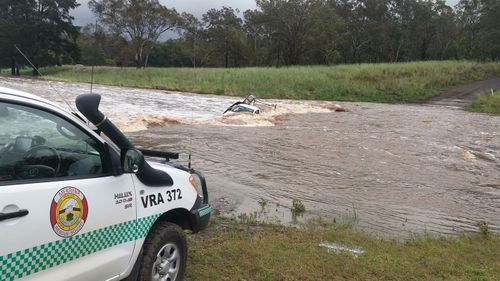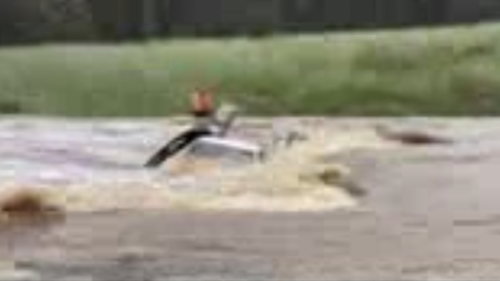 Merriwa Rescue Squad said this was the second rescue this morning.
"Merriwa VRA Rescue Squad are asking everyone to stay safe and dry."
NSW Rural Fire Service (NSW RFS) also carried out a rescue in Forbes yesterday when a motorist was cut off by floodwaters.
She was driving down the Lachlan Valley Way when floodwaters cut off her access and she was unable to turn around.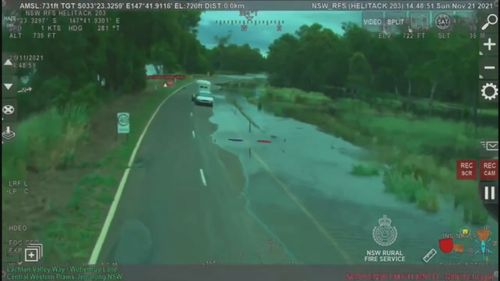 The NSW RFS helicopter happened to be flying around the area and was able to land and safely relocate the woman.
"It's important to note that some roads maybe cut off with little warning."
"So even if there are no warning signs or road closed signs never drive through flood waters," NSW RFS said.
Floods have also impacted Tamworth in the NSW north-east amid heavy rainfall.
Some residents were unable to go into work as Calala Lane was filled with flood waters, cutting off their route.
The road has since reopened.
Some students sitting their HSC in Tamworth had to relocate.
Tamworth High School and Farrer Memorial Agricultural High School advised their HSC students to attend different schools to sit their exams, and advised all other students to remain at home or report to their closest public school.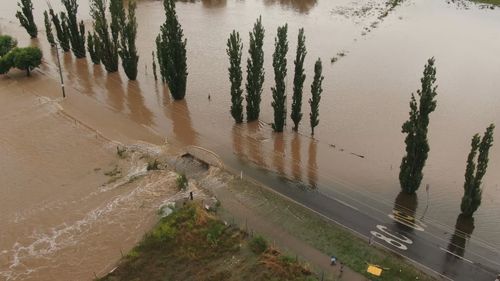 More rain and storm warnings are in place for the mid-north NSW coast and the Hunter region which are already experiencing flooding.
Moderate flood warnings are in place for the Castlereagh River at Mendooran and the Peel River in Tamworth.
The Central West which has already been battered by flooding has an upgraded major flood warning for the Lachlan River at Jemalong.
A moderate flood warning has been issued for Kingdon Ponds in the Scone area where minor flooding has already begun that is expected to intensify.
Multiple minor flood warnings have been issued for inland rivers in the north-west and central west.
A Hazardous Surf Warning has been issued for the Macquarie and Hunter Coasts.
The Bureau of Meteorology (BoM) said another trough is expected to cross the state on Wednesday and Thursday this week, bringing more severe weather.
"Renewed flooding is possible in the inland rivers where there are minor to major flood warnings current," the BoM said.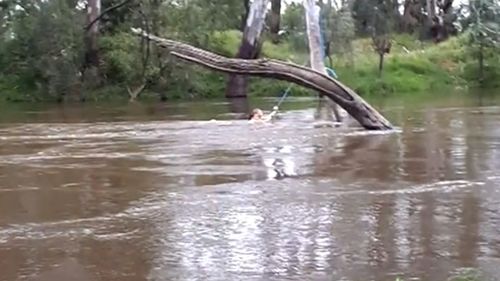 Further north, severe thunderstorms with heavy rain are currently moving through south-east Queensland.
This morning, Toowoomba was hit by severe storms, and Caboolture was lashed with torrential rain.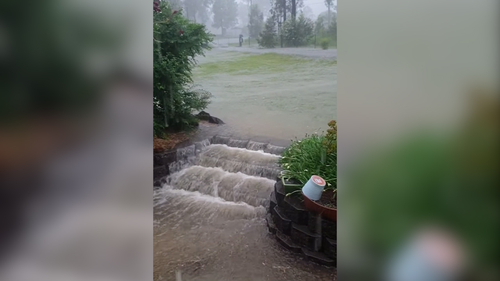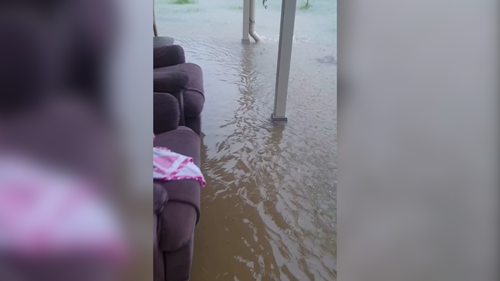 The BoM issued a severe thunderstorm warning for heavy rainfall for parts of Darling Downs and Granite Belt and Southeast Coast Forecast Districts.
The thunderstorm is very dangerous, the BoM said.
There is also a chance the storms will bring hail and severe winds.
A total of 72mm of rain was recorded in Ma Ma Creek near the Lockyer Valley in just one hour and 23.6 mm fell in Brisbane between 6am and 9am.
The BoM has issued a severe thunderstorm warning for central Queensland, for people in the Capricornia region, including Rockhampton and Gladstone, and parts of the Central Coast and Whitsundays.
The Central Highlands and Coalfields, Wide Bay and Burnett regions are also predicted to be affected.
The BoM has warned people in these areas to prepare for large hailstones damaging winds, large hail and heavy rain.
The storm cell is expected to bring wet weather all week.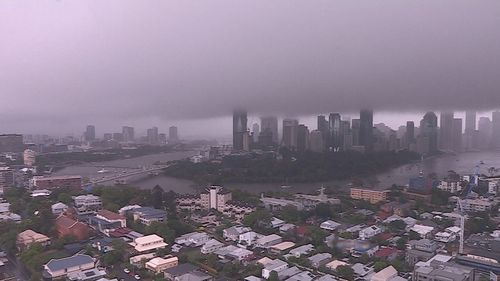 Queensland Fire and Emergency Services said there will be more severe storms and heavy rainfall this summer.
"There is a risk of increased weather activity in the coming months, so our communities need to be ready," Assistant Commissioner Gary McCormack said. 
It comes as the BoM said there is a 66 per cent chance of a higher-than-average number of cyclones and rainfall for Australia's eastern region. 
A warning of heavy rainfall and thunderstorms early Monday morning was issued for central southern parts of WA.
Some areas have recorded 162mm of rain over the weekend, with warnings of flash flooding.
Thunderstorms will be confined to western parts of the Northern Territory today, the BoM said.
More widespread storms are expected in the south of the territory tomorrow.