Time can get away from you. It's been greater than half a decade since American indie rockers Warpaint put out an album.
"It's funny that everyone says six years [hiatus], because we never stopped working," muses their Australian drummer and producer Stella Mozgawa. "We toured our last record for almost four years … through [to] 2019 when we were in Australia doing Splendour in the Grass."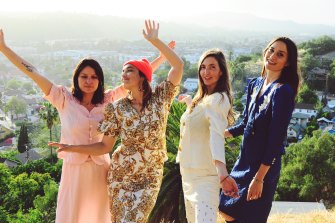 On prime of that, Mozgawa co-produced her long-time good friend Courtney Barnett's third studio album, Things Take Time, Take Time, launched in November final yr.
She is in Melbourne on a muggy March morning after we meet, busy touring with Barnett, to be carefully adopted by Warpaint's album launch and tour mid-year. It'll be some time earlier than she's again in her Joshua Tree residence, a 2018 buy following 14 years of dwelling in Los Angeles.
"I've barely spent enough time there to justify calling it my proper home," she says. "It was somewhere that I wanted to set up a studio and escape when I wanted to do something creative or have friends over."
That studio helped Warpaint lastly provide you with a successor to 2016's well-received Heads Up. They'd been discussing new work with no strong outcome for years and had loads happening outdoors the band. Jenny Lee Lindberg has newly launched solo singles, Emily Kokal is mom to a one-year-old and has labored with different musicians, and Theresa Wayman – mom to an adolescent – launched a solo album in 2018.
"The catalyst was when I had just finished the studio in July 2019 and the girls came and stayed at my place for four or five days," says Mozgawa. "I remember Theresa bringing in Champion and I think we also played Hips that day, a bunch of stuff that ended up being recorded at my studio. It was the first time we worked creatively outside of touring together for a few years.
"Our ideas were fleshed out in the room between all four of us, which is rare. It got really exciting, it felt like these songs feel different to what we've done before, and it feels worthy of the work that's required to finish an album."