Four children have died after a house fire broke out at Werribee in Melbourne's south west overnight.
The children were all aged under 10 and under.
Among the victims were two boys, aged 10 and three, and two girls, aged six and one.
The children's father and mother, and an eight-year-old boy were able to escape the fire.
Firefighters managed to gain entry to the house by breaking through the garage, after the broke out about 1am this morning.
"It is a terrible set of circumstances and one that is very difficult for members of the family," Detective Senior Sergeant Ashley Ryan, from the Victoria Police Crime Department, said.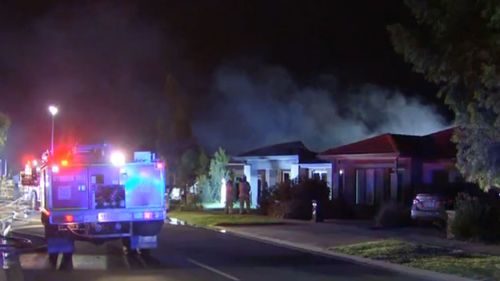 "Our hearts go out to the family and to the community this morning. 
"It's also very distressing for members of Victoria Police and emergency services given the circumstances."
Arson Squad detectives are on the scene investigating the blaze.
Detective Senior Sergeant Ryan said it was too early to say whether the fire was suspicious or not.
Police have put a callout to any neighbours or locals who might have witnessed the fire.
"We are calling on anyone who may have information who was driving past at the time, any dashcam footage, anything that may be able to assist us with the investigation," Detective Senior Sergeant Ryan said.
Fire Brigade Lieutenant Damien Molloy said the fire was already well alight when firefighters arrived on the scene.
"We were presented with a house that was well alight," he said.
"Fire had already broken through the roof and was already coming out the front door."